Conduent Multichannel Customer Communications in the Spotlight at 2023 Xplor CCM Summit
November 7, 2023 at 8:43 AM EST
Conduent multichannel communications management leader participating in panel discussion to share expertise in meeting the needs of communications for clients' customers
FLORHAM PARK, N.J., Nov. 07, 2023 (GLOBE NEWSWIRE) -- Conduent Incorporated (Nasdaq: CNDT), a global technology-led business solutions and services company, will highlight its business expertise and technology while participating in the 2023 Xplor Customer Communications Management Summit, a conference focused on highly personalized customer communications delivered across all channels. Companies and providers that design, produce and implement these high-volume, highly regulated communications will convene at the Rosen Centre Hotel in Orlando, Florida, November 14-16.

Conduent will showcase its Customer Communications Management (CCM) platform, part of its suite of multichannel communications solutions, that processes, manages and tracks the production, distribution and reporting of a company's communications, while meeting compliance regulations in all industries. In addition to exhibiting, Pamela Visconti, Vice President, Multichannel Communications at Conduent, will participate on a panel – The ABC's of CXM: Essential Knowledge to Guide your RFPs – to provide her advice to CXM buyers for how to best understand the factors that can delay or derail a successful multichannel communications project.
Conduent's multichannel communications expertise and solutions:
Leverage state-of-the-art technology to drive automation in highly compliant communications through multiple channels
Drive postage optimization through package consolidation and digital adoption
Deliver best-in-class security and compliance protocols
Access a flexible and scalable infrastructure to handle cyclical volume
"How an organization communicates with its customers is an essential element of a successful customer experience. For large enterprises with compliance-dependent communications, such as healthcare payers, insurance companies or retail banks, a trusted partner plays a critical role in the customer journey," said Andrea Whisler, Vice President, General Manager, Multichannel Communications at Conduent. "At this unique summit, Conduent will be spotlighting its CCM technologies and expertise that deliver meaningful business outcomes for organizations across a variety of industries."
For more information on Conduent's CCM platform stop by booth #7 to meet with Conduent's team and discuss Conduent solutions to create, manage and distribute personalized communications through multichannel delivery.
About Conduent
Conduent delivers digital business solutions and services spanning the commercial, government and transportation spectrum — creating exceptional outcomes for its clients and the millions of people who count on them. The company leverages cloud computing, artificial intelligence, machine learning, automation and advanced analytics to deliver mission-critical solutions. Through a dedicated global team of approximately 60,000 associates, process expertise and advanced technologies, Conduent solutions and services digitally transform its clients' operations to enhance customer experiences, improve performance, increase efficiencies and reduce costs. Conduent adds momentum to its clients' missions in many ways, including delivering 43% of nutrition assistance payments in the U.S., enabling 1.3 billion customer service interactions annually, empowering millions of employees through HR services every year and processing nearly 12 million tolling transactions every day. Learn more at www.conduent.com.
Media Contact:
Lisa Patterson, Conduent, +1-816-305-4421, lisa.patterson@conduent.com
Investor Relations Contacts:
Giles Goodburn, Conduent, +1-203-216-3546, ir@conduent.com
Note: To receive RSS news feeds, visit www.news.conduent.com. For open commentary, industry perspectives and views, visit http://twitter.com/Conduent, http://www.linkedin.com/company/conduent or http://www.facebook.com/Conduent.
Trademarks
Conduent is a trademark of Conduent Incorporated in the United States and/or other countries. Other names may be trademarks of their respective owners.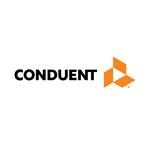 Source: Conduent Business Services, LLC