Conduent to Present at the 15th Annual Southwest IDEAS Investor Conference on Nov. 16 in Dallas, TX
November 15, 2023 at 8:15 AM EST
FLORHAM PARK, N.J., Nov. 15, 2023 (GLOBE NEWSWIRE) -- Conduent Incorporated (Nasdaq: CNDT), a global technology-led business solutions and services company, today announced that Conduent Vice President of Investor Relations Giles Goodburn will present at the Southwest IDEAS Investor Conference on Thursday, November 16, 2023, at The Statler in Dallas, TX.

Conduent's presentation is scheduled to begin at 3:50 p.m. CT. The presentation will be webcast and can be accessed through the conference host's main website: https://www.threepartadvisors.com/southwest and in the investor relations section of the company's website: https://investor.conduent.com/.
In addition to the presentation, Goodburn also will participate in one-on-one investor meetings.
About IDEAS Investor Conferences
The mission of the IDEAS Conferences is to provide independent regional venues for quality companies to present their investment merits to an influential audience of investment professionals. Unlike traditional bank-sponsored events, IDEAS Investor Conferences are "SPONSORED BY INVESTORS. FOR INVESTORS." and for the benefit of regional investment communities. Conference sponsors collectively have more than $200 billion in assets under management and include: 1102 Partners, Adirondack Research and Management, Allianz Global Investors: NFJ Investment Group, Ariel Investments, Aristotle Capital Boston, Ascend Wealth Advisors, Barrow Hanley Mewhinney & Strauss, BMO Global Asset Management, Constitution Research & Management, Inc., Diamond Hill, First Wilshire Securities Management, Inc., Granahan Investment Management, Great Lakes Advisors, Greenbrier Partners Capital Management, LLC, Hodges Capital Management, Ironwood Investment Management, Keeley Teton Advisors, Luther King Capital Management, Marble Harbor Investment Counsel, North Star Investment Management, Perritt Capital Management, Punch & Associates, Shepherd Kaplan Krochuk, Westwood Holdings Group, Inc., and William Harris Investors.
The IDEAS Investor Conferences are held annually and are produced by Three Part Advisors, LLC. Additional information about the events located at www.IDEASconferences.com.
If interested in participating or learning more about the IDEAS conferences, please contact Lacey Wesley at (817) 769 -2373 or lWesley@IDEASconferences.com.
About Conduent
Conduent delivers digital business solutions and services spanning the commercial, government and transportation spectrum – creating exceptional outcomes for its clients and the millions of people who count on them. The Company leverages cloud computing, artificial intelligence, machine learning, automation and advanced analytics to deliver mission-critical solutions. Through a dedicated global team of approximately 60,000 associates, process expertise, and advanced technologies, Conduent's solutions and services digitally transform its clients' operations to enhance customer experiences, improve performance, increase efficiencies and reduce costs. Conduent adds momentum to its clients' missions in many ways including delivering 43 percent of nutrition assistance payments in the U.S., enabling 1.3 billion customer service interactions annually, empowering millions of employees through HR services every year and processing nearly 12 million tolling transactions every day. Learn more at www.conduent.com.
Media Contact:
Sean Collins, Conduent, +1-310-497-9205, Sean.Collins2@conduent.com
Investor Relations Contacts:
Giles Goodburn, Conduent, +1-203-216-3546, ir@conduent.com
Note: To receive RSS news feeds, visit www.news.conduent.com. For open commentary, industry perspectives and views, visit http://twitter.com/Conduent, http://www.linkedin.com/company/conduent or http://www.facebook.com/Conduent.
Trademarks
Conduent is a trademark of Conduent Incorporated in the United States and/or other countries. Other names may be trademarks of their respective owners.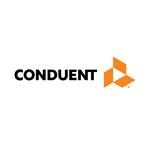 Source: Conduent Business Services, LLC