Conduent Transportation Implements New Contactless Payment System in Marseille, France
November 15, 2023 at 8:45 AM EST
New system successfully tested in July and now being gradually rolled out network-wide
GUILHERAND-GRANGES, France and FLORHAM PARK, N.J., Nov. 15, 2023 (GLOBE NEWSWIRE) -- Conduent Transportation, a global provider of smart mobility technology solutions and business unit of Conduent Incorporated (Nasdaq: CNDT), today announced that it, along with partners Visa and Caisse d'Epargne CEPAC, are implementing a contactless open payment system for the Aix-Marseille-Provence Métropole on the Marseille public transport network that includes buses, coaches, trams and a metro railway. Marseille is the second largest city in France, and the Aix-Marseille-Provence Métropole is the country's largest métropole, or urban agglomeration, with a population of over 1.8 million.

The new system will allow passengers to pay with contactless debit and credit cards, as well as NFC-enabled digital wallets. Testing of the system took place on selected lines during July, and the system is now gradually being rolled out network-wide.
"The Aix-Marseille-Provence Métropole has initiated a real transport revolution with the introduction of contactless open payment on the Marseille public transport network," said Martine Vassal, President of the Aix-Marseille-Provence Métropole. "We hope that the system's ease of use will encourage more people to use our public transport system."
"We value our long-term relationship with the Aix-Marseille-Provence Métropole, and the opportunity, working with Visa and Caisse d'Epargne CEPAC, to implement an advanced contactless open payment system on the Marseille public transport network that will deliver a simpler and faster user experience," said Adam Appleby, President, Transportation Solutions at Conduent. "Leveraging Conduent's technology and expertise, transportation authorities around the world are modernizing their networks to meet the needs of passengers who are increasingly more reliant on technology-based solutions for everyday transactions."
Conduent fare collection systems are in use on more than 400 public transit networks of all sizes around the world. In June, Conduent announced that it had been selected by transport operator Azienda Trasporti Verona (ATV) to provide new contactless payment technology for the public buses in Verona, Italy. In May, Conduent was selected by the State of Victoria, Australia, to implement an advanced, contactless payment account-based ticketing system.
Conduent Transportation is a leading provider of automated and analytics-based smart mobility solutions for government agencies. These solutions, spanning roadway charging and management, parking and curbside management, and advanced transit and public safety systems, enable streamlined and personalized services for citizens and travelers who use them. The company has been helping transportation clients for more than 50 years and operates in more than 20 countries.
About Conduent
Conduent delivers digital business solutions and services spanning the commercial, government and transportation spectrum — creating exceptional outcomes for its clients and the millions of people who count on them. The company leverages cloud computing, artificial intelligence, machine learning, automation and advanced analytics to deliver mission-critical solutions. Through a dedicated global team of approximately 60,000 associates, process expertise and advanced technologies, Conduent solutions and services digitally transform its clients' operations to enhance customer experiences, improve performance, increase efficiencies and reduce costs. Conduent adds momentum to its clients' missions in many ways, including delivering 43% of nutrition assistance payments in the U.S., enabling 1.3 billion customer service interactions annually, empowering millions of employees through HR services every year and processing nearly 12 million tolling transactions every day. Learn more at www.conduent.com.
Media Contacts:
Robert Corbishley, Conduent, +44 (0)7703 516569, robert.corbishley@conduent.com
Neil Franz, Conduent, +1-240-687-0127, neil.franz@conduent.com
Investor Relations Contact:
Giles Goodburn, Conduent, +1-203-216-3546, ir@conduent.com
Note: To receive RSS news feeds, visit www.news.conduent.com. For open commentary, industry perspectives and views, visit http://twitter.com/Conduent, http://www.linkedin.com/company/conduent or http://www.facebook.com/Conduent.
Trademarks
Conduent is a trademark of Conduent Incorporated in the United States and/or other countries. Other names may be trademarks of their respective owners.
A photo accompanying this announcement is available at https://www.globenewswire.com/NewsRoom/AttachmentNg/f20e451a-e160-4b39-bd14-0df6a9e817dd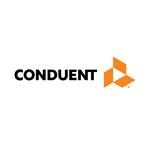 Source: Conduent Business Services, LLC