Conduent Transportation Implements Toll Relief Programs to Benefit Low-Income Individuals and Families
November 13, 2023 at 8:43 AM EST
Programs aim to waive overdue toll penalties and help advance equity in the Bay Area
FLORHAM PARK, N.J., Nov. 13, 2023 (GLOBE NEWSWIRE) -- Conduent Transportation, a global provider of smart mobility technology solutions and business unit of Conduent Incorporated (Nasdaq: CNDT), is helping agencies implement programs to ease the financial burden of roadway tolls for motorists, benefiting low-income individuals and families.

This summer, the Bay Area Toll Authority (BATA) and its partners launched two programs with support from Conduent that are now available for drivers with overdue payments from toll violations in the San Francisco area.
The first program offers all motorists, regardless of income level, a one-time full or partial violation penalty waiver through September 2024. Partner agencies Golden Gate Bridge and express lane operators also are offering full or partial waivers, which BATA administers. With these programs, BATA hopes to encourage individuals to avoid default and regain compliance.


The second program, which offers a payment plan designed to make paying off tolls, fees and penalties easier, is open to any low-income motorists who have received toll violations on Bay Area bridges and express lanes. Those who qualify can have all of their violation penalties waived and can pay off any remaining balance of $100 or more with a payment plan.


Using advanced technology for processing tolling transactions, Conduent designed and implemented the system capabilities to make these programs available to BATA customers. In addition, Conduent has enhanced the customer experience and issued proactive communications to support the new plans.
"We know people don't mean to fall into debt when it comes to paying their tolls," said Carol Kuester, Director, Electronic Payments at the Metropolitan Transportation Commission, which operates the BATA programs. "These programs will help a significant number of people get out of that debt and start fresh."
The BATA programs are in addition to a program that Conduent implemented for motorists in Florida, which automatically gives frequent users with toll transactions a credit to their accounts. Conduent has also implemented curbside management initiatives that offer discounts or payment plans to enhance equity in municipalities such as Chicago and Los Angeles.
"We see the impact that rising toll debt can have on low-income motorists, especially those who rely on these roadways daily for work, education, medical care and other needs," said Adam Appleby, President, Transportation Solutions at Conduent. "We appreciate the efforts made by BATA, and Conduent is proud to do its part in helping the agency provide critical relief to these individuals so they, in turn, can regain payment compliance without accumulating more debt."
Conduent Transportation is a leading provider of automated and analytics-based smart mobility solutions for government agencies. These solutions, spanning roadway charging and management, parking and curbside management, and advanced transit and public safety systems, enable streamlined and personalized services for citizens and travelers who use them. The company has been helping transportation clients for more than 50 years and operates in more than 20 countries.
About Conduent
Conduent delivers digital business solutions and services spanning the commercial, government and transportation spectrum — creating exceptional outcomes for its clients and the millions of people who count on them. The company leverages cloud computing, artificial intelligence, machine learning, automation and advanced analytics to deliver mission-critical solutions. Through a dedicated global team of approximately 60,000 associates, process expertise and advanced technologies, Conduent solutions and services digitally transform its clients' operations to enhance customer experiences, improve performance, increase efficiencies and reduce costs. Conduent adds momentum to its clients' missions in many ways, including delivering 43% of nutrition assistance payments in the U.S., enabling 1.3 billion customer service interactions annually, empowering millions of employees through HR services every year and processing nearly 12 million tolling transactions every day. Learn more at www.conduent.com.
Media Contact:
Neil Franz, Conduent, +1-240-687-0127, neil.franz@conduent.com
Investor Relations Contact:
Giles Goodburn, Conduent, +1-203-216-3546, ir@conduent.com
Note: To receive RSS news feeds, visit www.news.conduent.com. For open commentary, industry perspectives and views, visit http://twitter.com/Conduent, http://www.linkedin.com/company/conduent or http://www.facebook.com/Conduent.
Trademarks
Conduent is a trademark of Conduent Incorporated in the United States and/or other countries. Other names may be trademarks of their respective owners.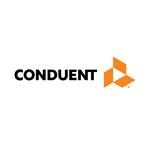 Source: Conduent Business Services, LLC