Mississippians Use Conduent's BenePath® Self-Service Portal to Improve Access to Medicaid Services and Other Benefits
November 6, 2023 at 8:43 AM EST
Portal provides ease and convenience for residents to apply for, manage and update their state benefits online
FLORHAM PARK, N.J., Nov. 06, 2023 (GLOBE NEWSWIRE) -- Conduent Incorporated (Nasdaq: CNDT), a global technology-led business solutions and services company, today announced the implementation of an online portal for Mississippi's Division of Medicaid and Department of Human Services. The solution offers state residents improved access to apply for and manage their benefits.

Mississippi residents can now use Conduent's BenePath® Self-Service Portal to enroll in and manage a range of state benefits, such as Medicaid, Children's Health Insurance Program (CHIP), Supplemental Nutrition Assistance Program (SNAP), Temporary Assistance for Needy Families (TANF) and Low-Income Home Energy Assistance Program (LIHEAP). Residents can visit www.access.ms.gov to prescreen to determine eligibility, register for an account and apply for services.
The BenePath portal helps state agencies better serve beneficiaries while managing changes in demand for services and regulatory requirements. It provides agencies with a new and effective way to achieve a seamless experience. In addition, the one-stop portal gives beneficiaries options to address and handle changes, renewals, re-certifications and document submissions.
The portal is part of Conduent's BenePath Suite, which is designed to integrate back-office eligibility functions with front-office contact center operations and self-service features to serve constituents better and maintain regulatory compliance. The cloud-based, configurable suite enables states to respond to changing regulations while providing a consistent user experience.
"We're proud to support Mississippi and its beneficiaries with our BenePath solution to advance self-service for eligibility and benefits management," said Mark E. King, President, Conduent Government Solutions. "We appreciate the trust that the agencies have placed in Conduent, and we look forward to helping the state enable seamless constituent interactions."
About Conduent
Conduent delivers digital business solutions and services spanning the commercial, government and transportation spectrum — creating exceptional outcomes for its clients and the millions of people who count on them. The company leverages cloud computing, artificial intelligence, machine learning, automation and advanced analytics to deliver mission-critical solutions. Through a dedicated global team of approximately 60,000 associates, process expertise and advanced technologies, Conduent solutions and services digitally transform its clients' operations to enhance customer experiences, improve performance, increase efficiencies and reduce costs. Conduent adds momentum to its clients' missions in many ways, including delivering 43% of nutrition assistance payments in the U.S., enabling 1.3 billion customer service interactions annually, empowering millions of employees through HR services every year and processing nearly 12 million tolling transactions every day. Learn more at www.conduent.com.
Media Contact:
Neil Franz, Conduent, +1-240-687-0127, neil.franz@conduent.com
Investor Relations Contact:
Giles Goodburn, Conduent, +1-203-216-3546, ir@conduent.com
Note: To receive RSS news feeds, visit www.news.conduent.com. For open commentary, industry perspectives, and views, visit http://twitter.com/Conduent, http://www.linkedin.com/company/conduent or http://www.facebook.com/Conduent.
Trademarks
Conduent is a trademark of Conduent Incorporated in the United States and/or other countries. Other names may be trademarks of their respective owners.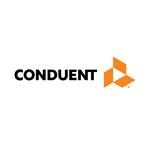 Source: Conduent Business Services, LLC