Conduent CXNow Customer Experience Solution Incorporates AI Capabilities with Rapid Deployment and Easy Scalability
October 30, 2023 at 8:43 AM EDT
Flexibility of CXNow offers seamless customer experience without capital cost outlays or onboarding and managing agents
FLORHAM PARK, N.J., Oct. 30, 2023 (GLOBE NEWSWIRE) -- Conduent Incorporated (Nasdaq: CNDT), a global technology-led business solutions and services company, today announced Conduent CXNow, a digital Customer Experience-as-a-Service offering for commercial and government clients. The solution is designed for mid- to large-sized businesses and state, local and federal government agencies to quickly deploy customer experience management. CXNow leverages artificial intelligence (AI) to provide chatbots, sentiment analysis and predictive engagement.

"Companies understand the benefits of high-caliber customer experiences, but many are challenged to implement solutions because of scale, investment or implementation risks. CXNow's cloud-based solution is flexible and scalable to meet the needs of a broad range of industries," said Cliff Skelton, Conduent President and Chief Executive Officer. "Conduent enables 1.3 billion customer service interactions annually, drawing on our 30-year experience to help our clients achieve their business goals through people, processes and advanced technology, including AI."
CXNow is a holistic, flexible customer experience solution that combines CX expertise with cloud-based contact services technology embedded with AI. CXNow enables personalized omnichannel experiences that customers and constituents expect. CXNow seamlessly bundles:
People: Conduent has been frequently recognized for hiring, training and managing multi-skilled and multilingual associates by industry analysts.
Processes: Conduent uses analytics and insights to help businesses and agencies improve customer experience, drive efficiency and strategically deploy their workforce.
Advanced Technology: Conduent's cloud-based technology stack is built on a fully integrated secure platform incorporating conversational AI, sentiment analysis and predictive engagement to improve business outcomes.

Conduent is a strategic advisor and partner to a broad base of Fortune 100 and government clients with its industry leading customer experience solutions.
About Conduent
Conduent delivers digital business solutions and services spanning the commercial, government and transportation spectrum — creating exceptional outcomes for its clients and the millions of people who count on them. The company leverages cloud computing, artificial intelligence, machine learning, automation and advanced analytics to deliver mission-critical solutions. Through a dedicated global team of approximately 60,000 associates, process expertise and advanced technologies, Conduent solutions and services digitally transform its clients' operations to enhance customer experiences, improve performance, increase efficiencies and reduce costs. Conduent adds momentum to its clients' missions in many ways, including delivering 43% of nutrition assistance payments in the U.S., enabling 1.3 billion customer service interactions annually, empowering millions of employees through HR services every year and processing nearly 12 million tolling transactions every day. Learn more at www.conduent.com.  
Media Contact:
Sean Collins, Conduent, +1-310-497-9205, sean.collins2@conduent.com
Investor Relations Contact:
Giles Goodburn, Conduent, +1-203-216-3546, ir@conduent.com
Note: To receive RSS news feeds, visit www.news.conduent.com. For open commentary, industry perspectives and views, visit http://twitter.com/Conduent, http://www.linkedin.com/company/conduent or http://www.facebook.com/Conduent.
Trademarks
Conduent is a trademark of Conduent Incorporated in the United States and/or other countries. Other names may be trademarks of their respective owners.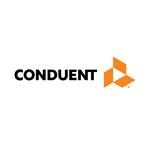 Source: Conduent Business Services, LLC